News & Brews with James Moore & Company is a monthly series discussing the latest in the business of collegiate athletics. In addition to the latest on COVID-19 and its industry impact, we will discuss topics like name image likeness, updates to NCAA financial reporting, your financial story and more. Join us the second Thursday of each month at 4:30 pm Eastern time (1:30 pm Pacific) as we have a beer (brew) and discuss the latest developments (news) that affect your athletics program! It's part of our firm's continued commitment to share knowledge, build trust and bring value to the collegiate athletic professionals.
Episodes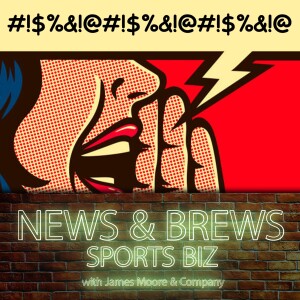 Thursday Jan 12, 2023
Thursday Jan 12, 2023
Today on News & Brews Sports Biz, Katie and Ken kick off the year with a "Festivus-style airing of grievances!" The duo brings some laughs as they cover the top 5 hot topics in collegiate athletics. They hit on financial and economic issues as well as the "more of the same" topics of NIL and personnel transitions. And of course, they ring in the new year with their latest brew selections.
Welcome (0:11)
Generated vs. allocated revenue (1:17)
NCAA financial reporting for investment losses (4:25)
NIL & transfer portal (11:08)
Coaching & athletic director transitions (16:35)
Post-COVID/inflation economic impacts (20:30)
Other grievances (23:40)
Brews of the month (24:35)
Wrap up (25:36)
Sign up to receive News & Brews Sports Biz notifications when new episodes are released: https://www.jmco.com/news-and-brews/
Learn more about James Moore Collegiate Athletics Services Team: https://www.jmco.com/industries/collegiate-athletics/